Description
The BulletSafe Alpha Vest is a full, combat ready bulletproof vest that offers twice the protective area of other bulletproof vests. This vest offers level IIIA protection in areas that other vests don't cover. The BulletSafe Alpha Vest offers standard front and rear protection as well as shoulder, collar, wrap-around side protection, and a drop-down groin protector. It also offers a full M.O.L.L.E. system, 6 utility pouches, and front and rear plate pockets.
The BulletSafe Alpha Vest will stop handgun rounds up to a .44 Magnum and will do so over a larger area than almost any other bulletproof vest. If you want the most possible protection, you'll want a BulletSafe Alpha Vest.
If you need rifle protection, utilize the front and rear plate pockets and add BulletSafe Ballistic Plates to them. This will give you NIJ level IV protection, the highest level the NIJ tests.
What is class IIIA and why is it right for me? Level IIIA (3A) is typically the highest level of protection you will find in soft armor. Our vest will protect you from everything from a BB gun to a .44 Magnum. Most gun violence is committed with hand guns, so choosing a BulletSafe Vest is a smart move.
How is this vest different than the standard BulletSafe Bulletproof Vest? The BulletSafe Alpha is very similar to the standard BulletSafe vest. It uses the same materials for the carrier and the ballistic panels. The difference is that the BulletSafe Alpha has protection in areas that the standard vest does not. It protects your shoulders, neck, groin and even wraps around your sides. The Alpha vest also provides storage for your gear. With it's full M.O.L.L.E. system you can buy accessory pouches and mounts for all sorts of things you want to use while on duty.
The BulletSafe Alpha Vest is available in four sizes: M, L, XL, and 2XL.
The BulletSafe Bulletproof Vest Size Chart Please use this helpful BulletSafe size chart. We use your height and weight to determine your vest size. This size might be different from your shirt size. Bulletproof vests do not stretch, and do not have to contain your shoulders, so you cannot order them the same way that you order a t-shirt.
Click on Size image for larger view.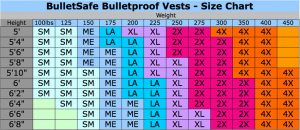 Another note on bulletproof vest sizing: Your bulletproof vest needs to fit in one main area: around your navel. The length of the vest is not important as you can use the shoulder straps to adjust it; be concerned only with the diameter of your midsection. If you are a thin man with a large belly, try to order at the top of your size range so that you can fasten the vest around your mid-section. If you are a competitive cyclist with large legs and a slender waist, order at the bottom of your size range.
What bullets can this vest protect against? A level IIIA vest can protect against almost all handgun rounds. IIIA vests (ours included) are tested with bullets up to a .44 Magnum, a really powerful round. This vest will protect against smaller rounds as well. We are quite comfortable in saying that a class IIIA vest will protect you from almost any handgun you will encounter and certainly any handgun that someone conceals. Handgun violence makes up most of the shooting injuries in the US, so this bulletproof vest offers a great level of protection for you.
What are the dimensions of the BulletSafe Alpha Bulletproof Vest?
Dimensions by Vest Size
Size

Weight

Height of each protective panel

Total protection area

Medium

12.7 lbs.

15.75″

890 sq. inches

Large

13.6 lbs.

15.75″

910 sq. inches

Extra Large

14.5 lbs.

16″

930 sq. inches

2X

16.3 lbs.

17″

1050 sq. inches