We've seen a dramatic increase in the number of manufacturers offering suppressors in the last several years and this could really stimulate sales if the tax stamp is eliminated. Might be time to contact your state representative to see where they stand on support. With the current administration it may never make it to a vote but it will be interesting to see how it progresses.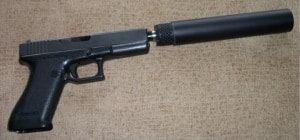 ASA ANNOUNCES HEARING PROTECTION ACT: A BILL TO REMOVE SUPPRESSORS FROM THE NFA
WASHINGTON, D.C. – The American Suppressor Association (ASA) is pleased to announce the introduction of the Hearing Protection Act (HPA) by Rep. Matt Salmon (AZ-05). This historic piece of legislation will remove suppressors from the purview of the National Firearms Act (NFA), replacing the antiquated federal transfer process with an instantaneous NICS background check. The HPA also includes a provision to refund the $200 transfer tax to applicants who purchase a suppressor after October 22, 2015.
Click here for link to full original article.
Leave a comment below if you think it's a good plan or not.