A bandanna's numerous uses make it an ideal multitasker to be carried as EDC and in all of your kits. It is lightweight enough to be carried in a pocket and usually a cheap piece of gear. Below are some of the uses that I have run across on various ways to use them over the years. Several manufacturers even print basic survival information on them for reference and memory joggers.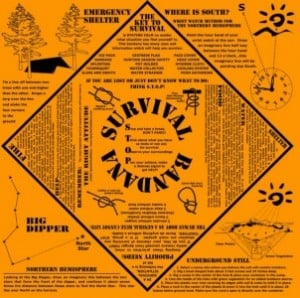 1. Most obvious, Handkerchief for sneezing and runny nose.
2. Sweat rag for neck
3. Sweat band for forehead
4. Pre filter for water to remove solids before sanitizing
5. Napkin
6. Pot holder for removing pot from camp fire
7. Emergency Signal flag
8. Protective wrap for sun glasses when stored in your pack
9. Lashing to tie gear to your pack or belt
10. Tea bag, use for making wild herbal tea
11. Sun shield for neck
12. Sun shield for head if you have no hat and / or are hair challenged
13. Sun shield for ears
14. Cleaning eye glasses
15. Cleaning inside of windshield
16. Dish rag for cleaning eating utensils
17. Container for picking wild edibles or kindling
18. First aid as Tourniquet
19. First aid as a compression bandage
20. First aid to hold on gauze bandage
21. First aid as an Arm Sling
22. First aid, fill with Ice and use as ice pack
23. First aid as eye cover, hold patch in place
24. First aid to tie splint for broken bone in place
25. Cordage, as is or torn into strips depending on amount needed
26. Trail marker, either kept whole or torn into pieces
27. Ear muffs in cold weather
28. Dust / smoke mask if wet and worn like a trail robber
29. Disguise your face
30. Blind fold for sleeping or securing captives
31. Hand cuffs
32. Gag
33. Padding under a shoulder strap
34. Washcloth
35. Small towel, use to collect dew in early morning or soak up rain water for drinking source
36. Tie stones inside and use as a throwing weight for getting a line up in a tree
37. Tie stones or weights of some sort and use for self defense
38. Small back pack or pouch for carrying items
39. Soft, kind of, padding for sitting on hard surface.
40. Gun wiping rag
41. Cut up and use as bullet patches for muzzle loading rifle or pistol
42. Cut up and use as Cleaning patches for weapon
43. Toilet Paper
Feel free to comment and add additional uses below.