What is in Our Car Kits
This year one of my New Years resolutions is this year is to be more organized than we were last year. So first up I started out making notes on a new calendar with all the things around here that need monthly and seasonal attention. One item is to check my various kits contents and change out or add components that are seasonal or need to be replaced or updated. I usually do this twice a year, primarily as the seasons start to change.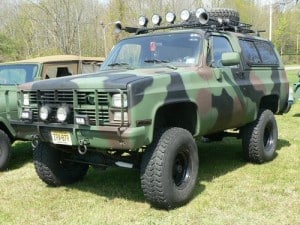 Below is a list of the contents for our cars and a brief description of why.
First are the items that are in all our cars, all of the time and are stored in the glove box, side door compartments and under the seat.
Copy of our family's emergency evacuation plans.
Copy of vehicle ownership title, (and copy of title for our Trailer), a valid insurance card and Auto Club Card. (We use to have AAA but found a better deal with Allstate).
12 Volt cell phone chargers for my Android phone and wife's Iphone.
GPS
Big folded maps for our city, state and states on all four sides of us.
Book of all US maps. (Remember to update these maps every couple of years, they are building new roads all over the USA).
Good condition, properly aired up spare tire, car jack and 2 X 4 X 6 pieces treated pine blocks to shim jack and block tire.
Basic first aid kit with some extra stuff added in.
Multi-tool
Compact Survival Blanket
Aquamira filter straw
For my big car kit, I store everything in a Rubbermaid tote to keep it all in one place and accessible. The other option if you don't want to gather up items is to purchase a ready made Auto Emergency kit such as one from Guardian that has a number of these things and then add to it what else you think you might need.
A 12 Volt air compressor that plugs into cigarette lighter: Use to air up low / flat tires. The one I have also includes a couple of adapters that can allow to me to inflate an air mattress or beach ball. Some people recommend having a large jump start pack that includes an air compressor but I chose this type instead to save on cost, size and weight.
Can of Fix-A-Flat: Not the best way to repair a flat tire but if you're on side of a busy road, it can get you back on the road quickly until you can get it properly repaired. Take note though, this past winter I had a low tire one evening and the weather was cold and snowing. When I pulled the can of Fix-A-Flat out to make a quick refill, I discovered that in the freezing weather that the clear plastic tubing was stiff and when I went to uncurl it from its storage position, the plastic nozzle broke off from the can. In hindsight I should have warmed it up in the car for a few minutes before trying to use it.
Tire Plug kit: If you should have a flat from a nail or screw and have the time to remove it, a basic plug kit with simple tools will get you a professional level repair.
Jumper Cables: Buy a good pair, not the cheap ones from the dollar store. If you don't know how to properly use them seek out someone who does so you don't damage the charging system – or – yourself.
Pair of Safety Glasses: Again, buy a good pair and wear them while jump starting or making any other repairs where eye protection is needed. You only have one set of eyes so protect them.
Pair of Leather Work Gloves: Hand protection and helps keep them clean when changing tire or adding fluids.
LED Headlamp: Hands free for repairs at night or in low light areas.
3 C Cell Flashlight: For when you need a reliable and long lasting light source and can be used for signaling for help
Spare set of 4 C batteries and 8 pack of AAA batteries for the lights.
Basic set of mechanics hand tools: I was a mechanic in a past career and have a pretty good skill set for automotive repairs so my tool kit might be more extensive that what everyone might carry. It includes a set of combination wrenches from ¼ inch up to 7/8 inch, and metric from #4 up to #22, and ¼ inch drive socket set of the same sizes. Pair of vise grip pliers, assorted set of screwdrivers both flat tip and Phillips head. Wire cutter pliers and wire stripper along with a roll of black electrical tape and small assortment of wire splices and terminals. A pair of slip joint pliers, a small hammer, couple of chisels and punches, roll of Duct Tape and two sizes of zip ties. There is also a small multi-meter and assortment of hose clamps.
500 Watt 12 Volt Inverter: We originally picked this up to power a small TV and VCR to entertain our kids on a long road trip down to Florida. Since then it has come in handy to power a laptop and recharge various phones and devices that we didn't have a 12-volt adapters for but had the house current chargers.
Vehicle Tow Strap: Besides being able to pull another vehicle out of a stuck situation, it could be used to pull me out and it could also be used for securing things as well.
Auto siphon hose: If you need to get fuel from another vehicle this will make life easier. It can also be used to add fuel to your vehicle from a container if you don't have a nozzle that fits into the filler neck.
Small pair of ratchet tie down straps: Used to secure whatever you might need to.
Pair of lightweight Coveralls: Keeps me clean while making repairs.
50-foot hank of paracord: Good for everything from an emergency fan belt to securing loads to making shelter.
10 x 10 clear plastic drop cloth: Protection from the ground if you have to make repairs under the vehicle, sealing up a broken window, making shelter.
Not in the Rubbermaid container: Gallon of drinking water, pair of well broken in hiking boots with pair of thick hiking socks, and a small collapsible shovel with cover.
Seasonal adjustments include adding a nice blanket, medium weight jacket, gloves and a knit cap. I also have a 1-quart can heater with a can opener and a bic lighter taped to the side (Youtube Link Here), and a good ice scraper. Depending on where I might plan to travel a set of tire chains and a small bag of salt is on hand to add if needed.
Below are links to Items in our car kits:
Garmin GPS
USA Road Atlas
Basic first aid kit with some extra stuff added in.
SOG Multi-tool
Compact Survival Blanket
Aquamira filter straw
Rubbermaid Tote
Guardian Auto Kit
12 Volt Air compressor
Jump Start Pack
Tire plug kit
500 Watt 12 Volt Inverter
Vehicle Tow Strap
Auto Siphon Hose
Small pair of ratchet tie down straps
collapsible shovel
I haven't included food and water in this list because that is part of a secondary kit. Leave your comments below and let us know what you think about our kit and what you feel could make it better.