Number one thing to remember, in most states, concealed means not visible and that includes an apparent budge or "Printing" of your weapon while in public. Number two is if it is not comfortable, you're not going to carry your weapon as often as you should.
Your choice of weapon style, revolver or semi-automatic and caliber be it 380, 9mm, 40 or 45 will be a major deciding factor if you can properly conceal it on your body. Larger frame men should have no issue hiding a full size 1911 with the right holster but my 5', 110 pound daughter would have a challenge concealing the same weapon under her clothing during the summer.
My choice for the last several years has been a hybrid of sorts of an inside the waist band style holster for my Glock 19 made by Crossbreed called the Super Tuck. One part is leather that rides comfortable against my skin or tee shirt and second part is a Kydex holster that is formed for the model of weapon carried. The design of the two belt clips allows a long tail shirt to be tucked in and conceal the grip of the weapon that is in easy reach. If you prefer to wear a loose fitting shirt not tucked in so much the better.  Cool weather I carry it at 3:00 position since I'm typically wearing a jacket or sweatshirt, summer time I'll usually position it around 5:00 to 6:00 because it seems to be better hidden. Of course in cool weather you could also use an outside the waist holster and keep it covered with a jacket or hoodie.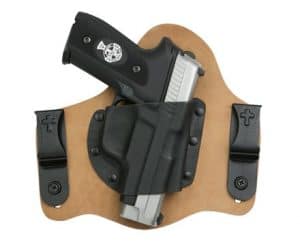 I've also found with carrying my pistol inside the waist required needing a heavier, double thickness leather belt to support the weight of the gun and I started buying my pants in the next waist size up so I was not as tightly wrapped so to speak.
Since I work for myself and don't have an office job anymore, most days I wear jeans or a pair of tactical cargo style pants from Propper. They have several styles and fabric blends that are comfortable and affordably priced. Their Men's Tactical model F5252-50 pants feature elastic in two positions of the waist that make the transition from carrying to not carrying my weapon very comfortable. Another plus is that they have multiple pockets for the various EDC items I like to keep close at hand.
If you prefer a more casual look Propper's Covert Short Sleeve Button up shirt is a neat option with its tear away side openings and false-button front closure.
As mentioned earlier, in cooler weather jackets, sweat shirts and hoodies offer concealment options as well. Another product from Propper I like is their Cover Hoodie because it features the front kangaroo type pocket with a magnetic fastener inside that allows you to access your weapon if carrying in the front area of your waist band. And they come in ladies sizes and colors as well, F5496.
Other options that may not be as quick to retrieve a pistol include a number of choices. For the ladies you might want to consider a specially designed purse with a secure pocket for your weapon. Or, do an internet search for Women's Bra Holster, you will find there are quite a number of makes and models out there for the smaller pistols.
Several manufacturers like Maxpedition, 5.11 and Propper have purpose built every day carry bags, shoulder packs and sling bags with built in pistol compartments that can be accessed quickly when needed. Options offered by Propper are two different size Over the Shoulder bags, a Bias Sling / One Strap Back Pack and a General Multipurpose Attaché style bag.
Finally and most important is practice and training. No matter whatever method of concealed carry you chose you've got to practice retrieving your weapon from concealment smoothly, securely and quickly. Seconds count and you don't want to be fumbling around with unfamiliar latches, releases, zippers or access if the need arises.